Portugis på väg
15-04-25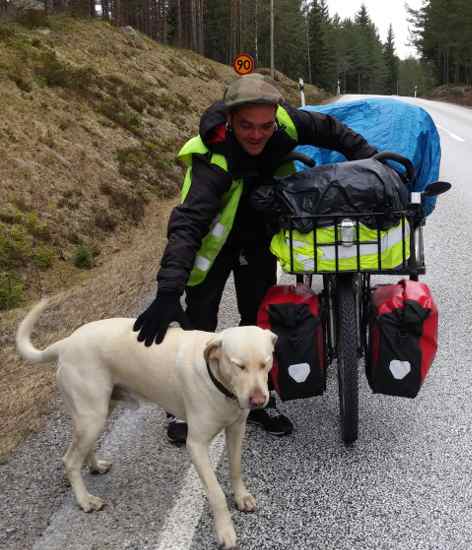 Kopparbergarn stötte i dag av en slump på 34-årige portugisen Florival António Gonzales Andrade i trakten av Hjulsjö. Han färdas på cykel med en fullpackad kärra på släp och i sitt sällskap har han hunden Crust. Kopparbergarns välkända nyfikenhet blev förstås väckt, och vi inledde ett samtal med honom.
Florival berättar att han kommer från en plats i Portugal som heter Braga och nu är han på väg mot Nordkap i Norge för att se midnattssolen.
– Jag har sett bilder på det på Internet, säger Florival, men jag vill uppleva den med egna ögon.
Han berättar att han räknar med att komma fram om ungefär två månader. För att klara uppehället under resan uppträder han på enhjuling i de samhällen som han passerar, och eftersom han planerat att stanna över natten i Kopparberg, kanske vi får se honom uppträda där i eftermiddag.
Text och foto: Björn Öringbäck
Kopparbergarn met by chance  Florival António Gonzales Andrade from Portugal today near Hjulsjö. He's going by bike with a heavy loaded cart followed by his dog Crust. Kopparbergarn's interest was awakened and we stopped to get a chat with him.
Florival tells that he comes from a place in Portugal named Braga and is on his way to Nordkap in Norway to see the midnight sun.
– I have seen pictures from it on the Internet, he says, but I want to see it with my own eyes.
He tells that he's counting to get there in about two months. To make his living during his travel, he uses his one wheel bike to performances at places where he stops. As he is planning to stay for the night in Kopparberg, you might be able to see him this afternoon.